Hidden deep in books of lore, there whisper tales of Kalidore…


The Temple at Muse Lake was built by the Elves to house the most important thing of all – knowledge.  Inside these humble walls a great library has remained protected from the elements, war, and those who sought to use the power for selfish ends.  The shy and gentle unicorn Muse is Keeper of the Temple, caring for the tomes and ancient manuscripts, and collecting lost scrolls.  Her companion, the Guardian Rhaine, acts as scribe, translating the old texts so that they might be enjoyed for generations to come…
The Collected Stories of Kalidore ~



The story of Kalidore is ever-growing and expanding, as our the rich RP element provides a trove of literary goodies. Besides that, there are collections of original stories, myths, and fables, exploring different creatures, eras, and new characters not yet introduced.  Here you will find all the stories in one place, we hope you enjoy them!

 

~ The Myths ~
Stories that deal with the How Things Came to Be, from all corners and cultures of Kalidore and beyond.
* How Kala Brought Order to the Universe, and
How Kaëdon Came to Find the End Of All Things
* The Origin of Magic: an Elves' Tale

Original Stories ~  COMING SOON!
Short stories & more, about the people and places of Kalidore.

 ~ Official RP Cannon ~
Want to know where it all began?  These are the original RPs of Kalidore – meticulously stitched together for your reading enjoyment.  Many thanks to everyone who contributed to these tales, and we hope you enjoy reading them as much as we did writing them!
If you're curious about past RPs but not up for all that reading, check out the RP Synopsis in the RP Guide.
---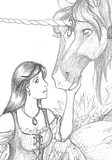 RP1 – Seeking a Companion
Where it all began ~ the original Kalidore RP saw many unicorns seeking Companions for the first time, and the young Guardians must put everything they've learned to the test if they are all to get home again safely!  Should be considered Part One of the Ulysses Saga.
* Chapter One
* Chapter Two
* Chapter Three
* Chapter Four
* Chapter Five
---
RP2 – Return of Ulysses
The Unicorns and their Companions have set out into the vast, unexplored regions of the Skyfield Mountains in search of a newly arrived Son of Kaedon, the stallion Ulysses. It is the first time many of the human companions have ever been to Kalidore, seen magic, or had  any sort of adventure, but with the Unicorns and Guardians to act as guides, the everyone is confident and eager.
Yet all is not well on the green, green isle; whispers of old wounds and old wars blow cold through the ethereal breeze, and unknown dangers lurk beyond the boundaries of known lands. What lays in wait in that strange wilderness? And what dark secrets might our companions stumble upon in their quest? As the Dragon Moon rises over Kalidore, a Lost Son has found his way home – but is it too late?
-> Chapter 1: The Harvest Ball
-> Chapter 2: Into the Kaledon
-> Chapter 3: The Skyfields
-> Chapter 3.5:  Elsewhere
-> Chapter 4: Ulysses
-> Chapter 5: What Morning Brings
-> Chapter 6: Coming Soon!

All writings unless noted are copyrighted Neena Bickram © 2008-2018.