Welcome to the Kalidore Trading Co.
Here lies everything you ever wanted to know about Kalidore Stamp Collecting and even a few things you didn't (but might find extremely interesting anyways).
This includes prizes (oh, the prizes!), different stamps, sets, and collection types, turn-in and claiming, general information, and of course a FAQ for all your quick, fact-finding needs.But first, the basics:
What are they, and how do I get them?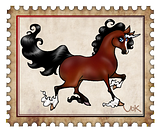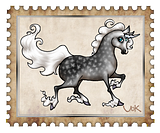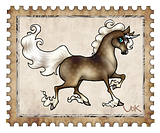 Kalidore Trading Stamps
are beautifully illustrated, digital "stamps" that can be collected, traded with others, mounted, and turned in for a variety of prizes. Some stamps are harder to find then others; the rarer the stamp set, the better the prize. Certain stamps – identified by a gold edge – can be turned in for prizes singly as well; special edition stamps – identified by a silver edge – are given out by your hosts for festival participation and collecting achievements. Stamps may be purchased in packs during specified "open shop" times, or can be won during Kalidore events on ~
Pony Island
~ and the ~
Kalidore Forums
~.
So, start collecting – and have fun!Read everything and still have questions? Check out our ~FAQ~
We hope these stamps will provide another fun way to participate and interact with our growing Kalidore community. And as we grow – so will our stamp collections! Check back here for all the latest information and highlights about new releases.
Need to know something not answered by the guide? Just ask!
We can be reached:
by e-mail, unicornsofkalidore at gmail dot com
on PonyIsland, by PM to Guardian of Kalidore
or, by posting in the Kalidore Help Forum