Hello Everybody! It's the Year of the Fire Rooster and Kalidore might have just gone to the birds…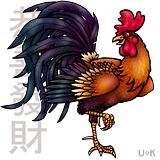 So come join us in the thread for all sorts of fun & games, tangy flatsales, and cosplay or two,
all in celebration of the Chicken, that most dignified and noble of beasts!
https://ponyisland.net/#!/?src=community&sub=forums&topic=3219367
… oh, and unicorns, There are also unicorns, of course
Hope to see you all there, and Gong Hei Fat Choy!