We are HOPPING into 2017!
What do we have here?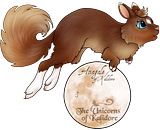 Yup, it's an Anagale – the male of the species to be exact!
Lora's first order of business was to take some very rough sketches that had been hanging around since the first incarnation of the Anagale, and not only try to replicate Whimy's style, but Delicious' inking savvy as well. Talk about a trial by fire XD But with just a little coaching, I think she pulled it off – so welcome the newest critter member to the family!
Even though spring is not for a few months yet, we thought a threadfull of bunnies is always a good thing, yes?
We hope you'll all join us in Intros for some hopping good fun & games! 😀
http://ponyisland.net/#!/?src=community&sub=forums&topic=3217214
SEE YOU THERE!