It's our Birthday and we're going to party hard, and we want all of you to join the fun!
There are going to be Games & Contests, Newbie Events, Special Auction pieces and SO much more –
you won't want to miss any of it. And besides, who doesn't love Birthdays?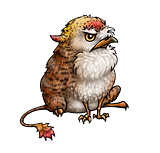 "I don't. I don't love birfdays at all. So there."
Oh, right… something about a Griffon Breeding Season will be happening too, grumpy griffon chicks and all. There's going to be something for everyone, so come on down and check it out!
See you all there!