Kalidore is 8 years old!  Where does the time go?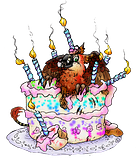 Welcome, welcome everyone!
 It's a our 8th Birthday on PI and we are looking forward to celebrating with all of you! Our theme for the event is "A Fairy Tale Birthday", which means all your favourite characters – and some who will quickly become your NEW favourites – will be joining us for the festivities. And you know what that means: there will be cake, prizes, more cake, auctions, random draws, even more cake, fabulous contests to enter (which may or may not involve cake) and all sorts of wacky, whimsical birthday fun!
Things Happening this Festival:
Pick-a-Present
A Fairy Tale Auction
Birthday Balloon Pop
Cucumbers for the Prince
The Very Short Fairy Tale Contest
Tiddilack's Comedy Tour
Craft-a-Crown
Frankenkore
Epic Quest
Cake Quest
Kaldiore Q&A Raffle
maaaaaybe some customs
… and much, much MOAR!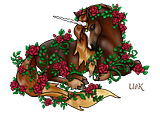 With that, I still have a cake to finish (and ensure that a certain young unicorn doesn't try to "enhance" it with another spell scroll) so with that, I will leave you to pass the punch and cookies and get this party started!
Sticky Birthday Cake Hugs and Kisses,
Lady Whimsy & the Whole Kalidore Crew ~