The Unicorns of Kalidore: Apple Harvest Festival!

Welcome, welcome everyone to our new site, our revitalized forums, and hopefully, an even better way to enjoy your time in Kalidore!
If you're here that means you have already discovered our website (cool, eh?!) and I'm sure you'll be happy to learn that large, multi-platformed Festival are going to be the new norm.  That means you have more ways to play, more ways to win, and participate in festival fun.  While PonyIsland will always be considered our first home, we have been outpacing the site in terms of growth and flexibility, and new "upgrades" have made it more and more difficult for both adoptables and general members to function efficiently. Besides, our Kaildore Forums are FREE – no membership required! – so we hope that gives everyone a big incentive to stick around Kalidore for many more years to come <3
So what's happening where…
On PonyIsland:
P&L's Grande Dousing Basin
(aka, the Dunk Tank, aka Give Tyden a Bath)
Bai's Candy Apple Toss
On the Forums:
Bobbing for Apples
Epione's Cider Sampling
The Great Kalidore Scavenger Hunt


Lots of stuff to do, no matter where you are.  And wait – THERE'S MORE!
~ Q&A Welcome Raffle ~
Have you ever had a question about Kalidore you were just dying to ask?  or something has always confused you to no end and you just need to know now?  or really, what's up with Tyden leaving his dirty socks everywhere?   Well, now is your chance to find out: we're running a website-based version of Q & A, that wacky game where you get to ask us anything about Kalidore (and I mean ANYTHING) and we, your humble staff, are compelled to answer. Truthfully, even. What's not to love about that?
And did we mention the prize: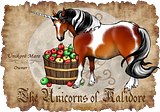 To enter, simply post your question about Kalidore here in the thread.
Everyone may enter one question for a chance to win; newbies (those who don't own ANY unicorns yet) may enter two questions.  Best of luck to everyone!

You will need to sign in to post, and Del will need to process new memberships to make sure you're not a spambot.  Do be patient with us during these small growing pains 😉  If you have any questions or concerns, you can always pm or email us too. We love hearing your feedback, no matter what!
We all hope you join us and have a GREAT fall festival here on Kalidore!
Many hugs and sticky apple kisses,
Lady Whimsy & the whole Kalidore Crew ~