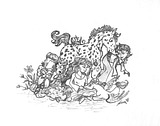 Hello all!
Just popping in formally to say things have not utterly quiet behind the scenes… but that we simply need ALL our staff people functioning at 110% before we can launch into breeding season. (I am simply not a brave enough person to do it alone! ) Epic Quest hasn't been forgotten either, and will join a few other activities taking place along with the Gathering Time.
This year's Gathering Time will run a little differently – a little slower, perhaps, but also longer, which will hopefully allow more opportunities for new unicorns babies! Pricing will run between 500K-$15 at random intervals… so breeding will be a mix up of slot claiming/lottery style slots provided by each available colourist. Of course, if you want to omit all that fuss entirely – there's always Ulysses slots available via the RP
On that note, world-building for Elvin Empire needs to begin in earnest as we near RP3; I have Lady E's original notes on the subject as the starting point, but as she's unable to do more than fly-bys in Kalidore these days, a new team will be assembled to map out this project. So if you are at all interested in World-Building Kalidore & Beyond, please drop me a line! And there are always perks for working behind the scenes
I think that's it!
Kalidore & Co will be making an appearance at Breyerfest again this year too, so if you are wandering down that way – be sure to come find us! More details to follow closer to the date
*snoogles everyone soundly and makes a big bowl of chicken soup for all our sick staffers*